International Sex Workers' Day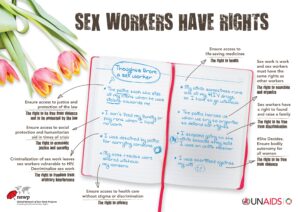 2 of June is International Sex Workers' Day.
Sex workers around the world continue to face a wide range of barriers to accessing justice and health services. Since sex work is widely criminalised, most sex workers are denied access to the benefits and rights afforded to other workers under labour laws and face the risk of criminalisation, detention, deportation and legal sanction.
Sex-workers are one of the groups that are vulnerable to HIV. They have limited access to medical, legal and social services, information and prevention means. Also they face violence from partners, clients, administrators, and police officers. Nowadays at Corona time a lot of Sex Workers don't have an access to ARV Therapy.
AFEW International works for key populations affected by HIV for almost 2 decades. With a focus on Eastern Europe and Central Asia, we promote health and increase access to prevention, treatment and care for major public health concerns such as HIV, TB, viral hepatitis, and sexual and reproductive health. We strive for all people, all key populations in EECA, including Sex Workers, participate fully and confidently concerning their health and rights, in an inclusive and just society.
Partnering with the NGOs in Eastern Europe and Central Asia, we ensure that sex workers have access to good medical care and have great possibilities for a healthy future.
We believe that Sex workers are a real power in curbing the HIV epidemic.