International Day Against Drug Abuse and Illicit Trafficking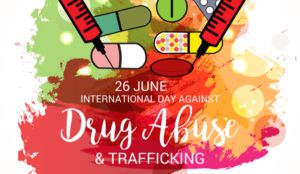 26 June is the International Day Against Drug Abuse and Illicit Trafficking, also known as 'World anti-drug day'. At this day the world is raising awareness to the concerns that people who use drugs face in society.
Effective responses to the world drug problem require inclusive and accountable institutions of criminal justice, health and social services to work hand in hand to provide integrated solutions. One of such approaches is harm reduction. Harm reduction covers the policies, programs and practices aimed to reduce the harms that might come along with the use of psychoactive drugs. Besides, harm reduction is a movement for the social justice that is built on a belief in the rights of people who use drugs. Harm reduction is an approach where the health and quality of life of people who use drugs is the focus and where the drug use is taken as a given circumstance.
One of the core activities of AFEW International and the AFEW Partnership is harm reduction. Unfortunately, most countries of the EECA region have laws that criminalize drug use, which makes sometimes harm reduction services impossible to implement. Stigma and discrimination remain a major barrier for access to health services.
In the framework of Bridging the Gaps: health and rights for key populations AFEW has activities to increase access to health services for people who use drugs. Our vision is that all people in EECA participate fully and confidently concerning their health and rights, in an inclusive and just society. That is why we will continue working on better demonstration that harm reduction is effective and we will advocate for more humane legislation for possession and use of drugs. Together we will build healthy societies!