#AmsterdamforYulia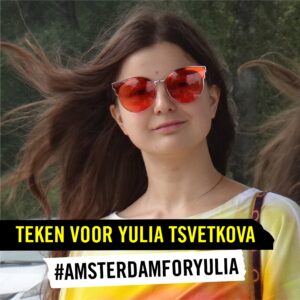 Amnesty International is launching a local campaign for the Russian LGBTI activist Yulia Tsvetkova. Yulia fights for the rights of women and LGBTI. As a part of her work, she posted artistic drawings of women on social media, some of which also portrayed their privates.
Because of this, Yulia was placed under house arrest from November 2019 on account of 'making and distributing pornographic materials'. After international pressure, this house arrest was lifted in March 2020 and changed to a travel restriction. She is currently still on trial and could be sentenced to up to six years in prison.
Due to the strict Russian laws against 'gay propaganda', it is being made impossble for people like Yulia to fight for their rights. The goal of this campaign by Amnesty International is to compel the Russian authorities to acquit Yulia and bring more awareness to women and LGBTI rights through international solidarity.
To do this, your help is needed! Do you live in Amsterdam and are you interested in being involved in this campaign? Amnesty International is currently looking for activist leaders to join the team, for more information and how to apply: https://www.amnesty.nl/werken-bij-amnesty/amnesty-zoekt-activistenleiders-in-amsterdam
Would you like to be involved in this campaign in any other way? Contact organizers via amsterdam@foryulia.amnesty.nl or social media channels.
Sign the petition: https://www.amnesty.nl/forms/petitie-kom-in-actie-voor-yulia-tsvetkova-uit-rusland
Follow Amnesty Internaional on Instagram and Facebook:
https://www.instagram.com/amsterdamforamnesty/
https://www.facebook.com/Amsterdamforamnesty-106700487714286
More information:
https://www.amnesty.nl/wat-we-doen/campagnes/kom-in-actie-voor-yulia-tsvetkova
#AmsterdamforYulia
#WeareYulia