Under 16 and Above: Protecting the Rights of Adolescents and Preventing HIV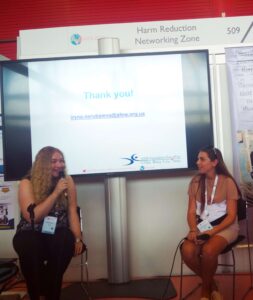 Author: Yana Kazmirenko, Ukraine
Shortage of HIV prevention programmes for young people was one of the key topics discussed at the 22nd International AIDS Conference (AIDS 2018). At the conference, AFEW-Ukraine presented its best practices in HIV response among young people. Since 2012, it has been supporting the initiatives aimed at most-at-risk adolescents within the Bridging the Gaps: Health and Rights for Key Populations project funded by the Dutch Ministry of Foreign Affairs.
Gaps analysis
Over the course of project implementation, social welfare centres for adolescents who use psychoactive substances were established in Kharkiv, Poltava, Kropyvnytskyi and Chernivtsi and a rehabilitation day care centre for such young people was opened in Chernivtsi. In 2017 only, over 12 hundred adolescents received 21,290 services in those four cities.
Olena Voskresenska, Director of AFEW-Ukraine, recalls that when the project just started, a gap analysis was conducted. It turned out that there were a lot of programmes for adults who use drugs, while few donors were supporting similar activities for adolescents. It was considered that this population does not make a considerable contribution to the HIV epidemic. Thus, both most-at-risk adolescents and generally schoolchildren and students of vocational training centres remained out of focus.
"Of all the countries involved in Bridging the Gaps project, Ukraine is unique in terms of the activities implemented for under-age drug users. We work with non-injecting drug users trying to prevent them from switching to injecting drugs," says Olena.
Children do not use drugs
One of the main achievements of AFEW-Ukraine is developing a tool to monitor the violations of human rights of most-at-risk adolescents. Questionnaires are used to collect data on adolescents' rights violations, providing urgent response and legal support. Iryna Nerubaieva, AFEW-Ukraine Project Manager, thinks that in the Ukrainian society there is a strong belief: children cannot use drugs and they do not use them.
"This community is invisible and unheard. Most often, adolescents do not know about their rights, do not know that they have any rights or how these rights are to be protected," says Iryna.
Adolescents – mostly high schoolers and students of vocational training centres – are brought to the community centres by their friends. Often they are referred by social welfare institutions, departments of juvenile services and even police.
Currently, AFEW-Ukraine works in four cities of Ukraine: Kharkiv, Chernivtsi, Kropyvnytskyi and Poltava. Besides, thanks to the cooperation with Alliance for Public Health, since 2017 the activities for adolescents, including monitoring of human rights violations, have been conducted in five more cities of Ukraine.
Testing as a prevention tool
At the conference, Yevheniia Kuvshynova, Executive Director of Convictus Ukraine, implementing partner of AFEW-Ukraine and Alliance for Public Health, told about the Voice of Adolescents project, which covers 717 adolescents.
The Underage, Overlooked: Improving Access to Integrated HIV Services for Adolescents Most at Risk in Ukraine project is aimed at teenagers who use drugs and live in small towns and villages in seven regions of Ukraine. Adolescents from Kyiv attend the Street Power youth club. In this club, teenagers who use psychoactive substances and practice risky injecting and sexual behaviours can watch films, play computer games and receive social support.
According to Yevheniia, most of them use non-injecting drugs and HIV testing for them is rather a prevention tool. So far, no HIV cases have been detected. Adolescents are tested for hepatitis C and B as well as sexually transmitted infections.
For many years, Convictus has been working with adults who inject drugs providing services to 11 thousand people. Working with adolescents is different: they are tested only starting from 14 years of age, with a social worker and a doctor involved.
"One of our priorities is building a network and a map of services, so that adolescents could go to any organization of the network and receive services from our partners. If a person coming to us needs more in-depth support, we provide such support and also help him or her with clothes as we maintain a clothing bank," tells Yevheniia.
Convictus is planning to develop a School of Leadership and a sexual health programme for girls, which are to close more gaps in the system of HIV prevention among most-at-risk adolescents in Ukraine.