Module on Writing a Conference Abstract Announced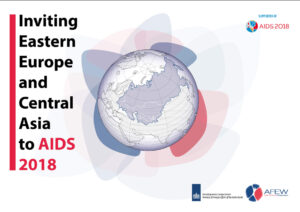 AFEW International and Health[e]Foundation present online course on community based participatory research – CBPR[e]education and free preview to the module Writing a conference abstract.
In the seven modules of the CBPR[e]Education course (available in English and Russian) you will gain insight into, and understanding about the key principles of community based participatory research.
Part of this course is available for free: module on writing a conference abstract. This module presents present information on the general requirements and considerations regarding abstract writing and the criteria used in the selection process.
Go here for more information and access to the course or send an email to info@healthefoundation.eu
Introduction
AFEW International: inviting Eastern Europe and Central Asia to AIDS 2018
AFEW International with the support of the Dutch Ministry of Foreign Affairs is implementing a range of activities to empower CBOs, NGOs, activists, policy makers, stakeholders, researchers and clinicians from Eastern Europe and Central Asia (EECA*) region to take part in the XXII International AIDS Conference 2018 in Amsterdam.
AFEW International activities:
From April 2017 – online learning courses that consist of seven modules on community based participatory research including a module on abstract writing (price: 50.00 euro, excluding Certificate)
From July 2017 – online module on abstract writing in Russian and English (free of charge for everyone). See details on the last page of this leaflet
Ongoing – educational online materials (tutorials) on how to navigate towards AIDS 2018
Ongoing – guidance and mentorship on abstract writing
Only for those whose abstracts and presentations got accepted – support in getting scholarships to attend conference
Summer 2018 – skills workshop How to present your work or research findings (for up to 25 participants accepted for presentations at AIDS 2018)
…and special events before and during AIDS 2018 for the EECA region delegates.
Indicative schedule for the applications for AIDS2018:
1 Dec 2017 – Feb 2018 – Abstracts. Workshops. Global Village. Youth Programme. Scholarships.
1 Dec 2017 – March 2018 – Exhibition. Satellites.
April 2018 – June 2018 – Volunteers.
For most up-to-date information on the AIDS Conference 2018** please refer to its official site (in English only). AIDS2018 news and important updates in Russian will be available here.
_______________________________________________________________________________________
*EECA region in which we operate includes the following countries: Armenia, Azerbaijan, Belarus, Georgia, Kazakhstan, Kyrgyzstan, Moldova, Russia, Tajikistan, Turkmenistan, Ukraine, Uzbekistan.
**Please note that official language of the AIDS Conference 2018 is English. All applications should be in English too. AFEW International is working on options for language support during the conference for EECA delegates who do not possess solid English skills.